US Residential Construction On The Rise
Residential construction took a huge knock during the 2008 financial crisis. The government as well as the private sector has rallied and created a more robust real estate market. Residential construction is growing at a steady rate, with local and international investment bringing our economy back to life.
What does this growing residential construction rate show us? It gives us a clear indication that while home prices continue to sore due to the low inventory and keen buyer interest, new construction will be the next step in the evolution of our growing housing market. Not only does this create more inventory and investment opportunities for current home owners, but it also opens the door to real estate investment for first timers.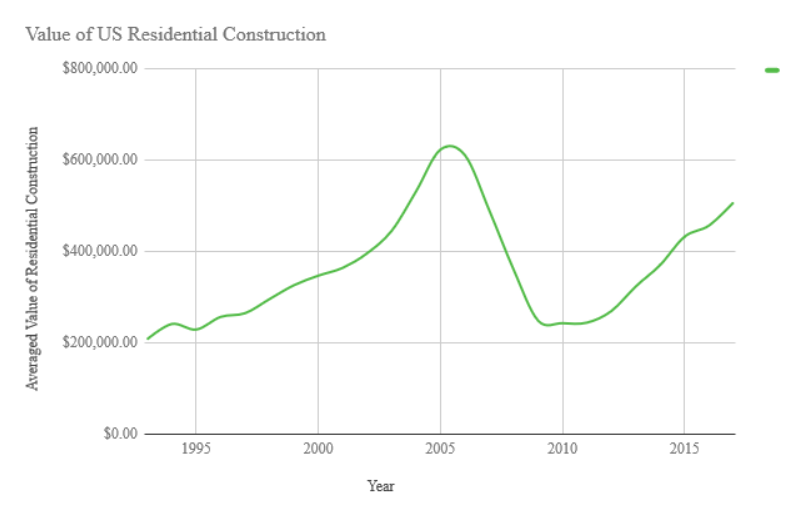 Total Value of US Residential Construction
Residential construction has plenty of runway ahead. Rather than rapidly bounce back from the 2008 crises, as is typical of the early stage of a recovery, it's had a gradual climb.
Home sales are being limited by low inventories even as prices are rising, so builders are gearing up as more first-time buyers enter the market and renters become homeowners. As the graph continues to climb, and unemployment falls even further, the value of homes will continue to increase.
Take a look at the pie chart below, where 42 analysts were consulted by Bloomberg. The chart reflects their opinions regarding how long the US Expansion will last before leveling out. The clear majority believe it will last a minimum of another 2 years taking us to through to July 2019 with solid growth as we are experiencing today.
Right now is the perfect time to start looking into new local housing developments. Get in touch with us to find out about local developments and new houses in the West Volusia area.
Expert Poll
How Long Will the US Expansion Last?
Find New Home Opportunities Through Greene Realty